Wealthifier – Internet, Affiliate, Email and Information Marketing…Teaching You How to Make Money Online » Advanced Tactics, Social Marketing » 4 Steps to Create a Facebook Page for Your Business or Site
Facebook has become an essential way to show yourself in the online world, both personally and professionally.
I'm not quite there yet, but from what I've seen on other sites, Facebook is a serious driver of traffic.  In fact, it's second only to Google itself in volume of traffic being pushed through it.  Furthermore, I believe I read an article a few weeks back that said that Facebook had surpassed Google in terms of page hits.
Anyway, I just went through the easy process of setting up a Facebook business page for this site, as well as a landing page for that page.  The landing page is the first page that people see when they go to your Facebook business page.  I'm going to walk you through setting the main Facebook Page for your business, so that you can take advantage of the traffic you can get from it.
Creating a Facebook Page: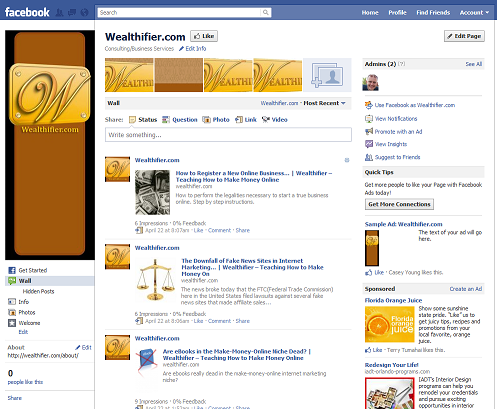 Outside of your personal area on Facebook, you can create a page focused on a non-person entity.  These are called "Pages".  You can create a page for any of the following:
Local Business or Place
Company, Organization, or Institution
Brand or Product
Artist, Band or Public Figure
Entertainment
Cause or Community
The Page you create will look like the one on the right.  It's nearly identical to the personal areas in Facebook.  You have a Wall and photo sections.  Just like the personal areas, you can add a main photo.  The top left corner shows the main photo.  It can be a maximum size of 200×600 pixels.  Keep this in mind for later.
You can take a look at my Facebook site for reference. If you do, please click "Like" to support this site. 
The Facebook URL for a page looks like this:
http://www.facebook.com/pages/wealthifiercom
Let's get you started on your own page.
You'll see an icon on the top right that says "Create Page".  Click this as you see below.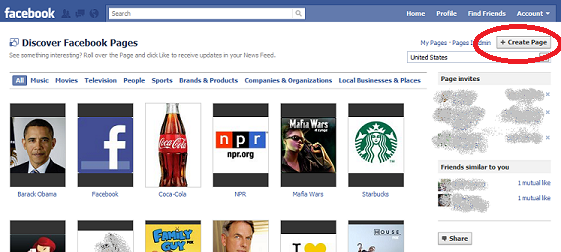 2- Once you hit "create page", you'll see a set of options that I listed above:
Local Business or Place
Company, Organization, or Institution
Brand or Product
Artist, Band or Public Figure
Entertainment
Cause or Community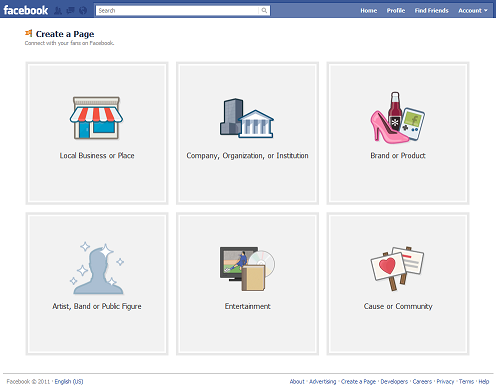 Click the type of page that you would like to create and…
3- Fill out the next few options it gives you.
It's very, very simple.  Each one of the categories above has a different set of options.  Local Business or Place obviously asks for a Business name and location.  The others focus on asking for a name and category.
After this step, your Page is created and a "Get Started" Page appears when you visit the main page for your business.  The left sidebar includes basic parts of your page including what you see below in the picture:
Get Started
Wall
Info
Photos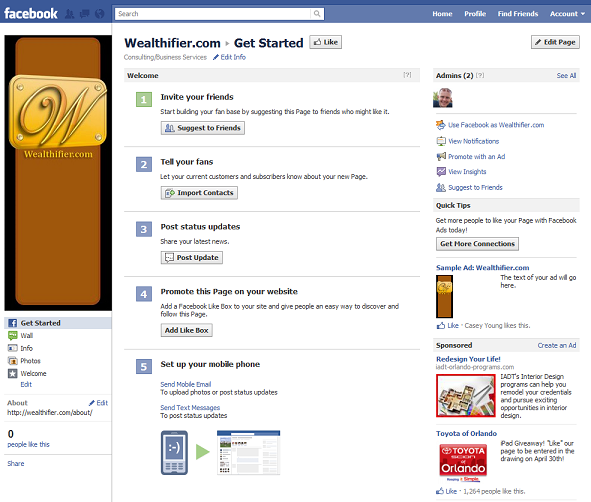 4- At this point you need to promote your Facebook page.
The "Get Started" page gives you basic options for improving and promoting your Facebook page:
Invite your friends
Tell Your Fans
Post Status Updates
Promote This Page on Your Website
Set Up Your Mobile Phone
You can see the picture above, which shows the Get Started Page.  Once you've posted status updates and received fans(people who click the "Like" button), the Get Started option goes away.
At any time, you can click the "Edit Info" link at the top center of your page to edit the details of your Facebook Page.  There are dozens of options here that self-explanatory.  You can add a main picture, adjust who can see and edit your page, how it is viewed, and see data about how many people have looked at your Facebook Page.
Just like a website, if you post regular updates, you have a better chance of being found by people searching for related items in Facebook.  Post regularly and build your brand.
Related Posts:
Filed under: Advanced Tactics, Social Marketing · Tags: business, facebook, facebook page, traffic
© 2020 Wealthifier – Internet, Affiliate, Email and Information Marketing…Teaching You How to Make Money Online LLC