Wealthifier – Internet, Affiliate, Email and Information Marketing…Teaching You How to Make Money Online » Money-Making Basics » 4 Offline Concepts You Need to Know to Make Money Online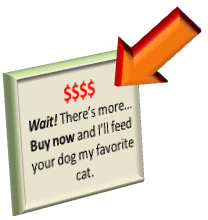 One of the first things I needed to do when learning how to make money was to understand the basic jargon and concepts behind them.  In reading a lot of these making-money-online courses, I've found that many of these smart folks simply used examples around them.  There are some very easy parallels in the offline world that match up directly with the online concepts.  After all, most are modeled after the real, living, breathing world in the first place.
1-   Sales Page or Squeeze Page:
This large ad lets you convince the reader that your product is the one they need to buy and how great it is for them, and how it will solve the related problems they have.  The real-world example of this is the flyer or full/half page ad in a magazine or newspaper.  You need to grab the attention of your audience and make them read more.
I had lots of problems doing this for the first time.  I had never written anything "salesy" and it was tough to do.  It all seemed cheesy and creepy, but then I realized that I really needed to be thinking from the other side of the page.
What were some of the ads that made me want to read more?  What were some things that I had bought based on an ad?  What had "hooked" me in those ads?
I used those and started saving examples of them for later reference for wording and approach.
2-   Pay-Per-Click Ad:
These are small, text-only ads that you pay to put on other sites.  When people click on them, they're sent to your web site.  They bring you traffic.  The more traffic you have, the more chance someone will purchase what you're selling, and the more money you will make.
Classified ads in newspapers and circulars are almost exactly like PPC ads. They are small and usually text-only, giving the reader just enough information in a very small place.  Every word is important in a PPC ad.
In both the real-world and online, these ads are cheap and plentiful.  It's also difficult to have your voice heard since there are so many of them all over the place.  However, they're a great place to start when selling a product.
3-   Streaming Audio:
Streaming audio is a recording of you or a spokesperson speaking about a topic with the purpose of selling a product.  It's audio-only and doesn't take up as much space or bandwidth as video.  You typically have a script written ahead of time and read it during the recording.
Radio ads are the offline equivalent of streaming audio.  They provide an audio sales pitch for your product in front of a somewhat targeted audience.  Radio ad sales companies charge money based on the time-slot and duration of a radio ad.
Online streaming audio, however, can be used for free on your website to provide quick information about your product in a much more personal way than simple text or graphics can.
4-   Streaming Video or Webinars:
These formats are video with both visuals and audio to show your information.  Video can show you or another person talking.  They can show presentation slides that are narrated by you or a spokesperson.  They can show what you are doing on your computer screen, if you are demonstrating something.  They can show you and a whiteboard explaining a concept.  It can really show anything.
The corresponding example in the real-world is a television ad or direct, face-to-face sales. Television ads are recorded video showing s sales pitch of some kind where the action they want you to perform is buying their product.  They are typically very expensive due to demand on the part of advertisers and need to have relatively high quality and production values.
Face-to-face sales usually require a LOT of rehearsal and forethought so that you don't look like an idiot when trying to sell someone.  They also give you direct feedback.  You know exactly what didn't work and what did work immediately.
Streaming video is recorded video much like a television ad.  It's done ahead of time and can be placed on your site or a community video site like YouTube.com.
Webinars are much more like face-to-face sales.  They are live and not pre-recorded.  Sometimes, the audience is allowed to participate by asking questions or providing comments during the course of discussion.
You may also want to take a look at the following other related articles:
So there you have it.  I could take each one of these and write an article individually in the future.  That'll all be based on demand.  Hopefully, this gives you some good information to start with and make use of.
-Casey
Filed under: Money-Making Basics · Tags: make money offline, make money online, ppc, sales page, streaming audio, streaming video, webinar