Wealthifier – Internet, Affiliate, Email and Information Marketing…Teaching You How to Make Money Online » Money-Making Basics, Mumblings, Reviews » HUGE Money-Making Christmas Presents Received!
I received a MASSIVE late Christmas present from some great friends…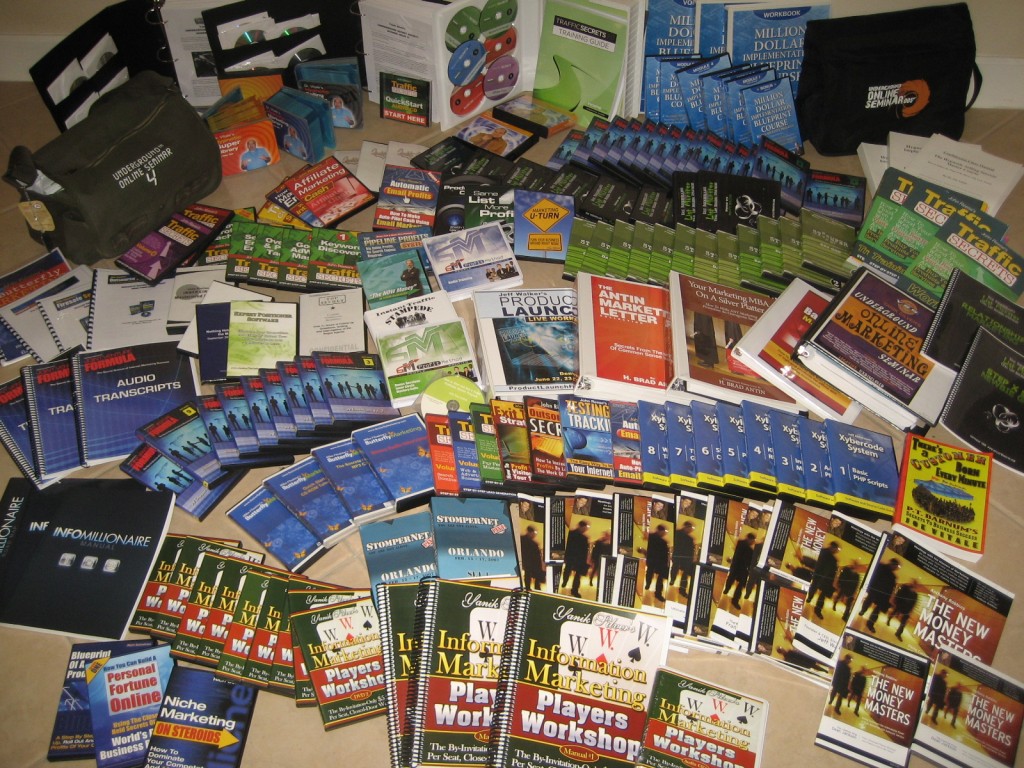 As super-affiliates, they receive free copies of products that they promote and sometimes other products they choose not to promote.  Their closets were getting full from all of the how to make money "junk", so they cleaned them out and gave them all to me.
There are a dozen boxes and several bags full of all kinds of products about how to make money online and offline.  There are literally hundreds of DVDs, CDs, binders, boxes, envelopes, bags and sleeves full of everything from individual lessons to huge boxed collections of systems and monthly subscriptions.  It took me a dozen trips to bring it in from the car, and it wore me out.  I definitely need to start working out again. 

This is an absolute GOLD MINE for someone like me who is just getting started in the business of describing how to make money.
I was so excited to dig into this stuff, but once I started unpacking it all, it completely dawned on me what people in this industry call "information overload".  It is seriously going to take me years to digest all this information.  Half of it is still in shrink-wrap unopened.  If I ever ask the question, "how do I make money", I think I have enough info for all the answers now.
I'm going to have to come up with a method for going through this stuff.  I'm going to try to group everything appropriately.  Some of the systems are split up in separate boxes and bags according to their method of how to make money.
Meanwhile, as I go through it, I'll post my findings here as I try to implement some of these teachings…  Stay tuned…
Related Posts:
Filed under: Money-Making Basics, Mumblings, Reviews · Tags: how can I make money, how to make money, information marketing, information overload, making money online, presents