Wealthifier – Internet, Affiliate, Email and Information Marketing…Teaching You How to Make Money Online » Advanced Tactics, Blogging, Reviews » Automatic Content Experiment Part 1
Background…
I was fairly intrigued by one of the tools I came across in writing the How to Get Content for Your Blog post a week or so ago.  Getting content on your blog and keeping people interested in what you are talking about is critical in getting them to buy things you advertise or recommend.  …and buying means income and money.

In thinking about it, I struggled with figuring out a way to test this tool I found out without risking the quality of my site.  I could create a separate niche site strictly for the purposes of testing this out, or I could somehow make it work on one of my existing sites.  Then the idea came to me:  I could make use of it on this site as a great demonstration of how the tool actually works, while also being able to evaluate for myself what the content looks like.
The tool is called The Unique Article Wizard WordPress Plugin.
The Unique Article Wizard is a tool that has 2 parts:
a paid-for tool that allows you to submit your article(with a backlink in it to your website) to thousands of other websites and article directories.  You can get this Unique Article Wizard here.
A free WordPress plugin that allows you to have some of these articles automatically posted on your site, creating content automatically.
This post is focusing on the second part, which auto-posts articles to your site.
UAW plugin setup…
Go to the website for Unique Article Wizard here and click on the WordPress plugin link.  This downloads a .zip file to your computer.
The next step is to install this .zip file on your WordPress website.  Click on the "Add New" button in the WordPress Plugins section…
After you clicked this button, just click the "UPLOAD" link on the next page as shown below, and choose the file that you downloaded in the first step.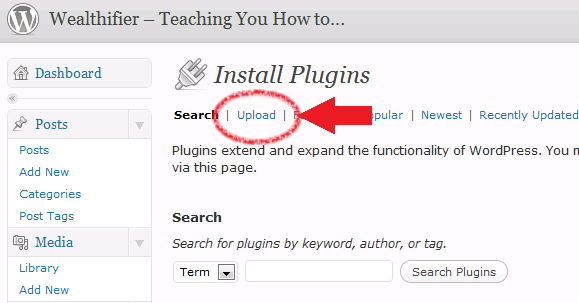 Once you've installed the plugin and activated it, it gives you many, many options to play around with, including deciding how you approve the articles, or if you just let them auto-publish sight-unseen.
The Automatic Content Experiment Plan…
I'm going to activate the plugin for the next week and see what types of articles I get posted on Wealthifier.com.  Afterwards, I'll write another post with my opinions on the tool and the content it provides.  The evaluation should consist of configuration, use, and the articles themselves.
So, for the next week, be prepared to see unusual content for this blog.
It should be very interesting to see how this goes…
Related Content:
Filed under: Advanced Tactics, Blogging, Reviews · Tags: article marketing, articles, autopost, blogging, content, income, unique article wizard, wordpress plugin