Wealthifier – Internet, Affiliate, Email and Information Marketing…Teaching You How to Make Money Online » Advanced Tactics, Automatic Content Experiment, Blogging, Reviews » Automatic Content Experiment Conclusions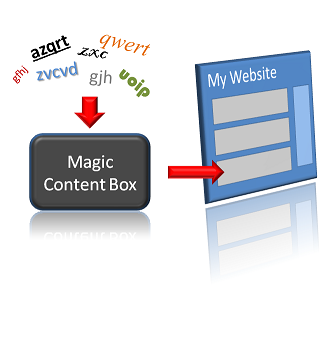 This is the follow-up to the week-long experiment I've been running using the Unique Article Wizard WordPress Plugin.
It has been a very interesting week of posts.  I received content that was mostly related to my niche on this blog, which is about how to make money online.  I also received the occasional completely off-topic post.
The question I originally wanted to answer was, "Can automatic content be good enough to use on a blog?"  I think I have the answer to that now and it's not a completely straight-forward yes or no.
I'll start off by describing the tool and how it works
As described in Automatic Content Experiment Part 1, The Unique Article Wizard WordPress tool takes articles submitted by other people, pares it down to a set of articles related to your site, and automatically adds them as Posts in your WordPress admin panel.
Once you've installed the plugin, a UAW Control Panel appears in your "Settings" area in the WordPress Control Panel of your site.  There's a pretty extensive set of options that you can change so that you can control the types of articles UAW gathers for you and how they are posted.  Here's a snapshot of the top half of the control panel: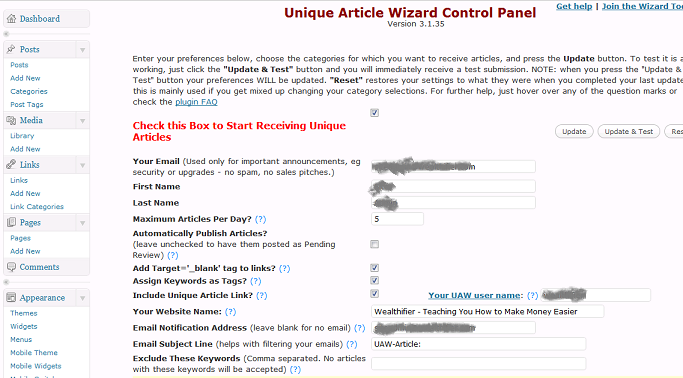 The first checkbox is for activating the flow of articles to your site.  I kept this turned off until I chose my options and tested them with the test button on the right.
The second set of options is your identification.  I'm not really sure what this is used for.  I put my administrator email address in here.  I haven't received any special emails from this portion of the tool.
The next option is where you specify how many articles you want posted to your site each day.  I chose 5, and it was very accurate.  After a 1 day lag in setup, I received 5 articles consistently everyday of the experiment.  I didn't choose a higher number because I didn't want to spam my site with too much content that I wasn't sure about to begin with.  I also didn't want to have too small a number because I wanted to have enough articles so that I could judge their quality pretty accurately, and having 1 article a day wouldn't allow me to do that very well.
"Automatically publish articles" option does just that.  If chosen, the articles are automatically posted without your review.  I did NOT choose this option because I wanted to see the articles before they were posted to my site and pushed through my RSS feeds.  By not choosing this, the articles showed up in my post queue as "Pending".  I then read through them, and trashed the ones not related to my content.  I also added a little disclaimer picture that you can see on the articles, before publishing them.  This option was very useful for me.
The "Add Target=…" option simply opens links in the article in new windows when published.  This was a nice option so that I can keep my website open on my communities computers while they follow links in a separate window.
"Assign Keywords as tags" simply automatically adds SEO tags to the article on your site based on the keywords the author submitted.  This is good for SEO, unless you want to do this yourself manually.
The "Include Unique Article Link" option says that it creates a link to a unique version of the article, which won't be duplicated anywhere else on the web.  I didn't really see how this worked.  I found no such link in the articles posted.  I'm not sure if this a broken feature or what.
The "UAW user name" and "Website Name" fields are related to the above.  I'm still not sure how this works.
The email options are very nice.  They allow the UAW to email you when a new article is posted to your site and allow you to accept, reject or edit it directly through links in the email.  It also allows you to add a subject line so that you can filter these emails in your inbox.  Very nice options.
The "Exclude" option allows you to trash articles that contain certain words.  I didn't really use this, but I can see how it would be useful.
There is a pretty big set of options for multimedia.  You can choose to include video, pictures, and audio.  I chose all of these options, but out of all the articles I received, NONE of them had any of this content.  So, I'm not sure if 1)No one submitted any of this with their content, or 2)This option is not working.  Either way, it would be pretty cool if this worked.
"Categories".  This option shows you the categories on your site and allows you choose the categories that UAW will find articles for.  I'm not quite sure how it aligns the articles with your categories, but I just chose all of them.  I would have rather liked to be able to chose the specific keywords of the articles instead.  This tool didn't allow this.
Once I chose all of my options, I clicked "update and test".  It pushed a test post and a notification email.  After that, I enabled the flow of articles by clicking to top checkbox.  It actually took about a day for the articles to start coming in.
The Articles…
The articles that were posted include the following:
There were also several articles that were posted that had nothing to do with my niche:
Improve your golfing with a shiatsu chair recliner
Why to choose California DUI lawyer
Wholesale silver jewelry – How to calculate a realistic cost for each jewelry product
Help from homeowner warranties if you want to speed up the sale of your home
I removed these articles before they were posted.
Article Quality…
Looking at the articles themselves, they were of decent quality, but there were some issues.  Many of them had a lot of words, but didn't really have much content, if you know what I mean.  They didn't say much. It seems like many of the authors didn't have good content to provide, or were maybe hesitant to provide their best content for UAW backlink purposes.
One thing I also noticed very easily was that some of the words were a little "off".  They didn't quite match the context of the words around them in some sentences.  In knowing how Unique Article Wizard works, it pretty obvious that a lot of these articles are "spun" content from other original articles.  Words have been replaced by synonyms.  Some paragraphs have been reordered.
The End Result…
I recommend UAW WordPress Plugin in some sites.  It's ideal for sites where building simple content quantity or filler is important.  For sites where every post needs to be good and you're building brand recognition, it probably isn't the best way to go, unless you have a ton of articles delivered and you manually filter through them all to find the cream-of-the-crop that are perfect enough to post on your site.
I find it to be a VERY useful tool, however.  I might keep it activated on some sites to have a trickle of unique content delivered automatically.  It also gives you a great research mechanism.  You can see exactly what the content is of competitor sites without ever leaving WordPress.  There are so many creative ways to put this tool to use in making money online.
One thing I've nearly forgotten to mention in this post is that the UAW WordPress plugin is FREE.  It also complements the UAW paid article marketing tool very well.  I'll post more on that tool at a later date…
Feel free to leave comments below on your take of the Unique Article Wizard.
Related Posts:
Filed under: Advanced Tactics, Automatic Content Experiment, Blogging, Reviews · Tags: article marketing, articles, automatic content, blogging, unique article wizard