Wealthifier – Internet, Affiliate, Email and Information Marketing…Teaching You How to Make Money Online » Wealth on a Map » Finding Wealth: David Siegel
One of the fun things I found to do is zooming around Google Maps or Bing Maps and finding very large homes…
Interestingly enough, there are some amazing property appraiser websites in various counties around the United States that can give you some very cool information on properties and owners.  I used these to see if I could find what people with very large homes did for a living.  I found some very interesting people through this method.
NOTE: I want to point out that any information I post about these various map findings was easily found in public internet searches.  I not trying to make anyone mad or insult anyone.  I'm just very interested in how people become wealthy.

Here's a great example of how I tracked down some massive wealth…
I found Shaquille O'neal's house online very quickly in Orlando since it's 64,000 square feet and it's VERY easy to find on a map.  However, we know how he makes his money.  I was more interested in his neighbors…
I found this massive house under construction: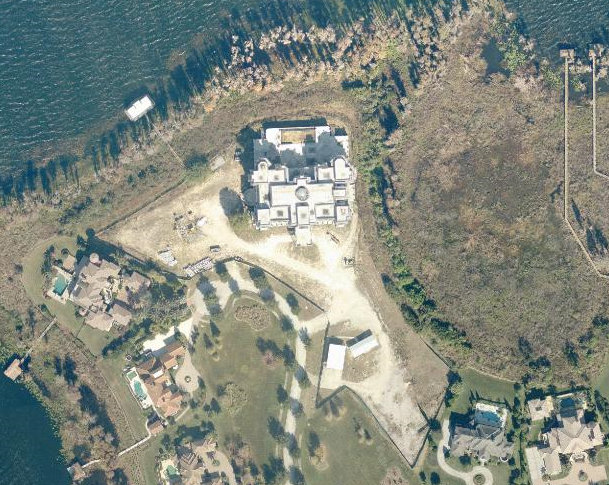 Looking this house up on the local property appraiser's site, I found this to be owned by a David Siegel.
Unfortunately, because it's under construction, there is very little information about the building itself.  It completely dwarfs the homes around around it, however, and some of them are around 10,000 sq. ft. each!
So where did this money come from?
I did a quick search on David Siegel to try to glean some clues as to where his money came from.
According to the Orlando Sentinel, David Siegel is the founder and owner of Westgate Resorts (the massive timeshare company) and it's parent company.
I found another great article on Mr. Siegel in Orlando Magazine.  Mr. Siegel apparently is a high school grad who started out with a small TV-repair shop in Miami, made a little bit of money at a time and slowly built the fortune he has today.  The most pivotal deal was apparently the purchase of the land that became the core of Westgate Resorts.
From there, he built his empire that became the third largest timeshare in the world.
The Orlando Magazine article mentioned that he is "calm, deliberate and always blunt", as well as "a shrewd… businessman."
I also found out that the under-construction house is extremely well-known in the Orlando area.  It's apparently the largest house in America. There are numerous websites that show pictures and stats of it like this one.  Apparently, it's 90,000 sq ft, and will cost roughly $100,000,000 when complete.
Other assumed stats:
Roller rink
Video Arcade
Bowling Alley
8,000 sq ft Master Bedroom
Underground parking for more than 30 vehicles
Health Spa
Private massage rooms
I then looked up any other properties he may own as well…
There was another, older home that was just down the street from it.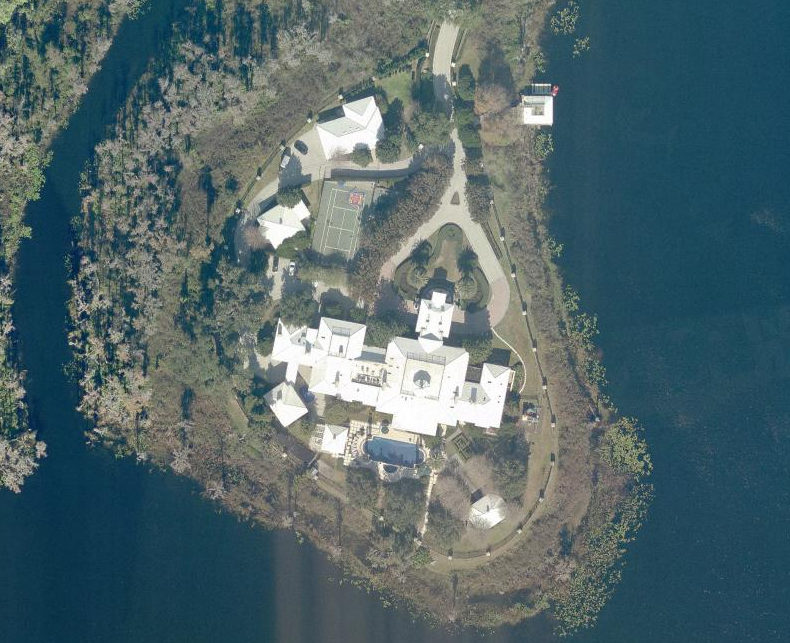 It is extremely massive as well, built on it's own peninsula on a lake with several buildings attached.  Check out these stats:
34,000 sq. ft.
12 bedrooms
14.5 bathrooms
10 buildings
2 stories
basketball court
massive pool
Boat dock
Wow.  What would you do with this much money?
I would absolutely love to sit down with this guy and pick his brain on his insights into making money and living the extravagant lifestyle he can afford due to his hard work.
Related Posts:
Filed under: Wealth on a Map · Tags: homes, make money, make money offline, map, money, wealth