Wealthifier – Internet, Affiliate, Email and Information Marketing…Teaching You How to Make Money Online » Advanced Tactics, Money-Making Basics » Case Study on Building Traffic (Part 1)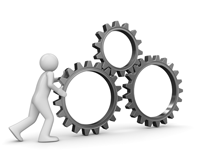 This is the first of several posts on gathering traffic, and this one is focused on this particular site.
Up until now, I've spent a few minutes here and a few minutes there writing articles that came easy to me on this blog, without much serious thought to making it a popular site.  It was mostly used to post answers to basic questions that friends had so that I didn't need to have the same conversations over and over again.  I think it's time to change that and make this a more worth-while site for those of you reading.
The first step to that is to build a true community here and the way you do that is to gain traffic so that comments build.  I'm going to share with you the steps I plan on taking to build traffic.  I've researched quite a few products I have at my disposal and this is a culmination of that research along with my own analysis.  There are several products I read that include GREAT information in a LOT of detail.  One I bought myself and can definitely recommend is "Dan Brock's Deadbeat Super Affiliate" program.  I make a commission on that link, so please use it if you think it can help you too. 

The main goal is to gain as many users as possible that are interested in your content.  You gain traffic through direct traffic, referring sites or search engines.
Referring Sites:
Referring sites are websites that have a direct link to your website.  For gathering as many referring sites as possible, I plan on article marketing, social posting, bookmarking and RSS propagation over the course of the next few weeks.
Article Marketing can include:
Submitting articles with links to your site to article directories.  This provides authority on your subject.  The value of these are simply in the association of related content to your main site and one way links to your main site.
Creating secondary sites on content hubs like HubPages and Squidoo which link back to your site.  Sites with related content that have one-way links to your main site help increase your rank.  This bullet is essentially creating these sites to help rank your main site.
Social Posting includes:
Posting links and information about your site to Facebook, Twitter, FourSquare, Google Social, and others, where they can grow in viral ways.
Bookmarking includes:
Submitting bookmarks to articles in your site to bookmarking sites such as Digg, StumbleUpon, Reddit, Slashdot, Del.icio.us, Fark, Yahoo, etc.
RSS Propagation includes:
Changing the settings on your blog to include several more "update services" than the default in WordPress shows.
Search Engine Traffic:
The quantity of traffic from search engines is dependent on the particular search engine's opinion of your site.  Very few people are privy to the details of how these opinions are set by the search engines, and so this is almost as much of an art as a science.  People with lots of experience in trial and error in ranking sites can call themselves search engine optimizing professionals.  I've talked a little about this in Basic Search Engine Workings and the Money That Flows Through Them. Improving your search engine rankings can mean the difference between no traffic and insanely large traffic.  There are several factors I plan on focusing on to gain search engine traffic:
On-Page Traffic Factors:
Title Tags
Keywords included in my articles
Content, Content, Content
URLs
Off-Page Traffic Factors:
Incoming links
Authority of my current site
Anchor link text wording
Direct Traffic:
Direct traffic comes from people who have bookmarked your site because they like what you have on it, and want to continue coming back to see more.  This is the best traffic you can have because having a large quantity of it means that people "get" you and your topic and are a better quality of traffic(see Knowing the qualities of Traffic) than the alternative of one-time visitors.
There is not much you can do to increase this type of traffic other than providing great content that people like, and continuing to provide it on a regular basis.  The good thing is that if you're proving solid content, this will come for free.
Wealthifier Current Snapshot:
I installed a neat, free browser plugin called SEOQuake.  It gives some great information about every page it loads so that you can see things you and your competition are doing wrong and right.
As it stands right now, I have nearly no traffic and I'm just now starting to write quick articles to begin my plans above.

As you can see, my Alexa rank, amongst other things, is very weak: 13,973,764.
I'm looking forward to seeing this change significantly in the coming weeks. 

Related Posts:
Filed under: Advanced Tactics, Money-Making Basics · Tags: article marketing, bookmarking, how to get traffic, how to make money, incoming links, ranking, rss, seo