Wealthifier – Internet, Affiliate, Email and Information Marketing…Teaching You How to Make Money Online » Advanced Tactics, Money-Making Tools, Reviews » Market Samurai Review- First Impressions
I keep seeing other information marketers using a tool called Market Samurai. I tried out the free trial a couple of months ago, and it looked very powerful, but the trial only lasts a short time.  Just recently, I decided to go ahead and buy it.  I'm pretty glad that I did.  It is a fantastic tool with tons of features and capabilities.  In this post, I'm going to give you my first impressions with the tool.  Did I mention that the trial is FREE?
Starting the application:
The program is based in Adobe Air, a slick little environment that automatically installs the first time you open the program.  Once you have the program open for the first time, the first thing you do is enter a keyword for your niche.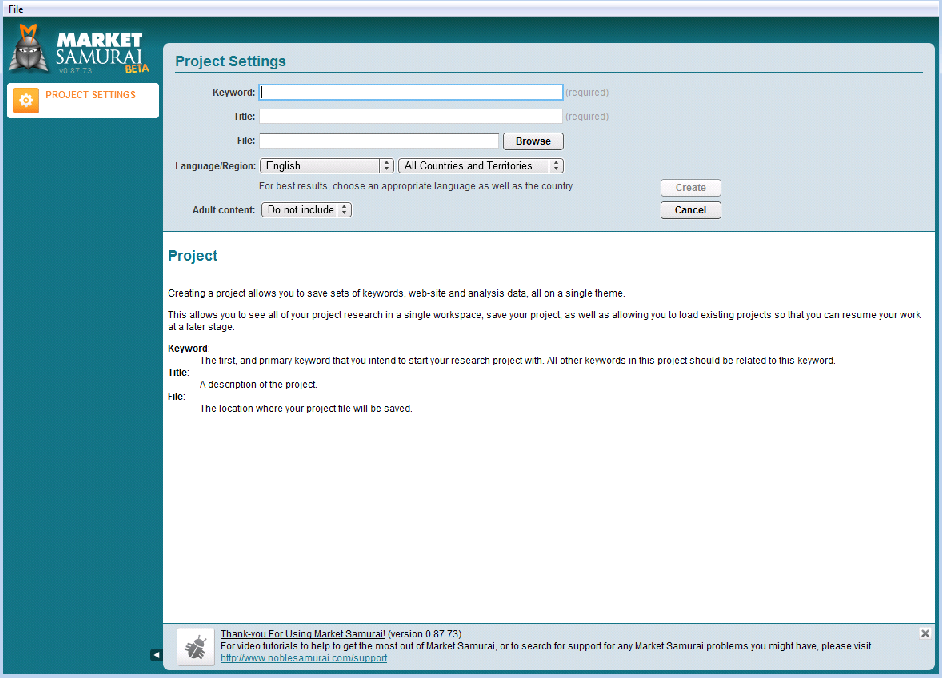 Keyword tools:
Once you've defined a keyword, the tool creates a tab over the top for it and opens up all the tools you can use for the keyword.  The options are pretty extensive and allow you to run a full gamete of internet marketing tools such as keyword research, competition research, website rankings, adwords research, domain research and backlink research.  It's kind of overwhelming at first how much is available with this tool, but it's incredibly intuitive and easy to use.  Everything is well documented and mouse-over help is available all over the place.
I picked a keyword "books" for example purposes in Market Samurai.  Below is the list of options shown once I entered it…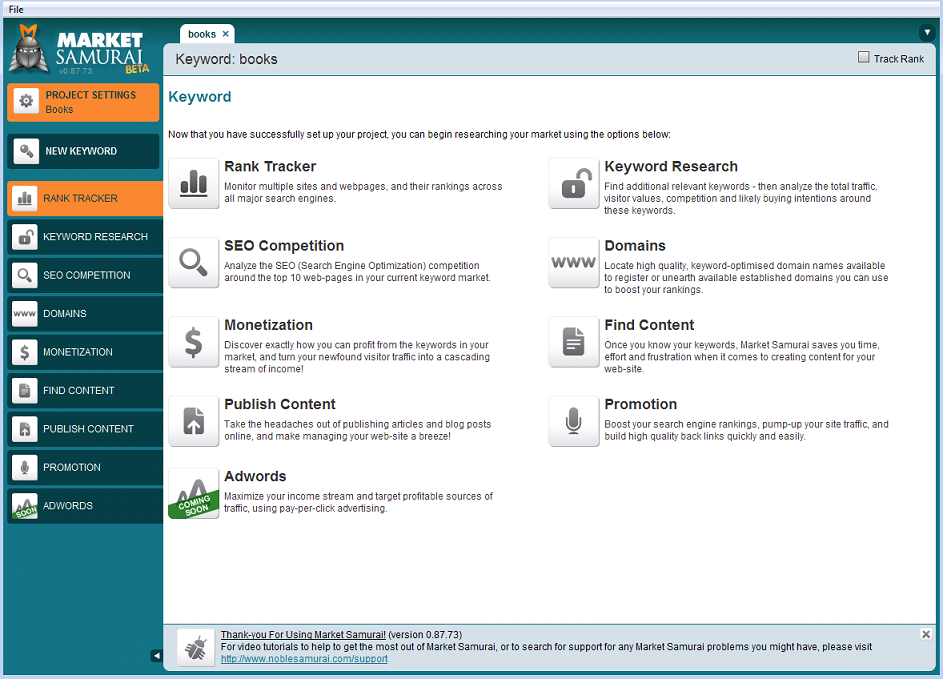 Keyword research:
I chose the "keyword research" tool and was given the large number of available parameters that you can choose to show for your keyword and keyword synonyms.  I only chose options related to the number of searches.  This tells me how many people per day search for the terms and what trends there are for those terms.  Once you click the "analyze keywords" button, the program goes out and retrieves all those data points for you as shown below.  You can even click on a column heading to sort by that column, making it easy to sort the data by the field you're interested in the most.  For me, I tried the "Total searches" column, since I wanted to know how many searches were performed for terms related to my "books" keyword.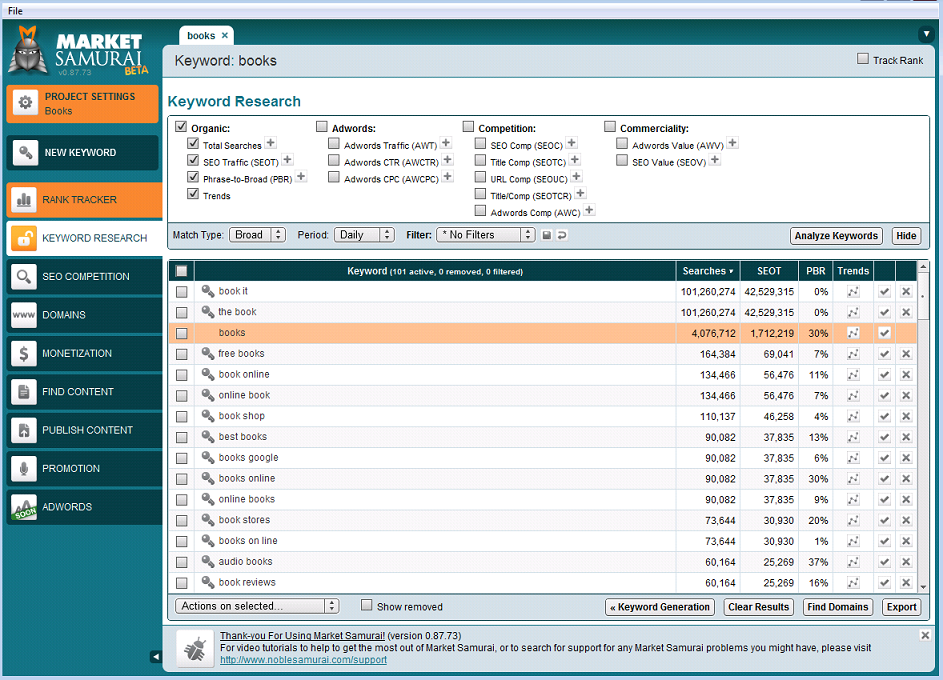 Competition Research:
After this high level look at the keyword research tool portion, I looked at the "SEO Competition" tool within Market Samurai.  This particular tool lets you see the attributes of the top ten search results for your chosen keyword.  It's very, very informative and useful.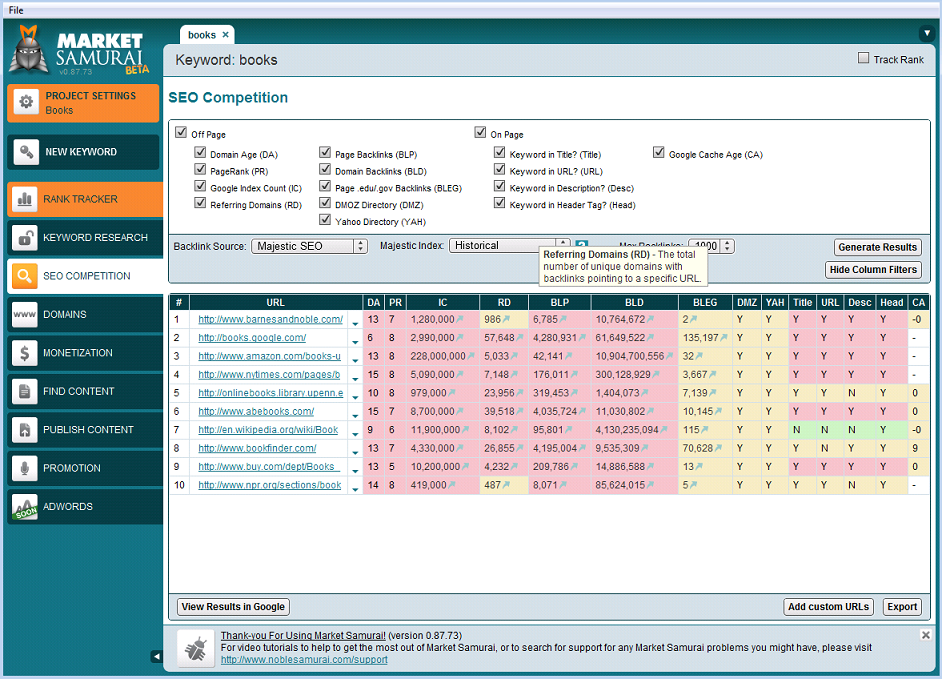 Once again, you are presented with a wealth of options to display on each site. The information is also color-coded in simple stop-light colors to get the info you need at a glance.  Areas in red show strong competition.  Yellow is moderate, while green is where the competition is weak.  There are acronyms for the column headings, but simply moving your mouse over the heading gives you a great description of it.  As you can see above, the competition for the keyword "books" is crazy strong.  This is definitely a keyword to avoid if you plan on having any search engine traffic at all.  "DA", meaning domain age is very large for all the top 10 sites.  They have all been around for many years.  Other attributes indicating number of backlinks from related domains, and page rank confirm this.  Nearly all attributes of the competition are very, very strong.
Synopsis:
In Market Samurai, there is much more information than you could ever use unless you are a hard-core search engine optimization(SEO) professional.  Even so, this program is so easy to use, I was able to very easily get instantly useful information from it.
For anyone who is looking into creating niche sites, or just optimizing the content on an existing website, this tool is instantly worth much, much more than the low price you can get Market Samurai here.

I'll be posting again in the future on more examples of using this tool.
My links above are affiliate links, which I make a slight commission from.  As described above, this is a tool I highly recommend.  I use it nearly daily now and can honestly say that this program had a lot of thought and work put into it.  I believe that anyone trying to make money online can get great value out of this tool.
Related Posts:
Filed under: Advanced Tactics, Money-Making Tools, Reviews · Tags: internet marketing tools, keyword research, market samurai, seo, seo competition